Office Promosi Ltd.
....a bridge of Indonesia-Japan....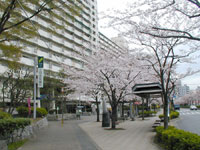 Our office in an environment friendly place in Tokyo, Japan during Sakura or Spring season beginning of April [Zoom]
We are here in Tokyo, Japan because we are always looking and always believe to the bright future of the economy of Indonesia. Yes, we do understand the unstable political situation. Yes, we do understand the neighboring countries is also trying hard to compete with Indonesia and also trying to attract more foreign investor. Yes we do understand with the pessimism of some investors who looked down to the potential of Indonesia. Moreover......we do understand foreign investors always looking to the most powerful place to get a lot of profit.
The last believe - looking to the profit - is a nature of a business society. For us, Indonesia could bring luck, could bring us prosperity and even we believe Indonesia someday could become one of the most powerful country in the world.
Is this only a dream...........?
Let us hand in hand, working together, heart to heart and trust us, we could become bigger together to the objective of the best profit of us!
.....let's make a brighter future together.....
---
Office Promosi, Ltd., 1-1-1-1008 Oyada, Adachi-ku, Tokyo 120-0001, Japan Tel.050-3322-5674 Fax.03-5616-4200 Email: info@promosi.jp
Trade, Communications, and Marketing Services